Jordi Cardoner presents FC Barcelona as a driver of social change at Asahi World Forum 2016
The first vice president makes some powerful statements on his visit to the Japanese capital, where he also visits the headquarters of Nikken Sekkei, the studio that is designing the future Camp Nou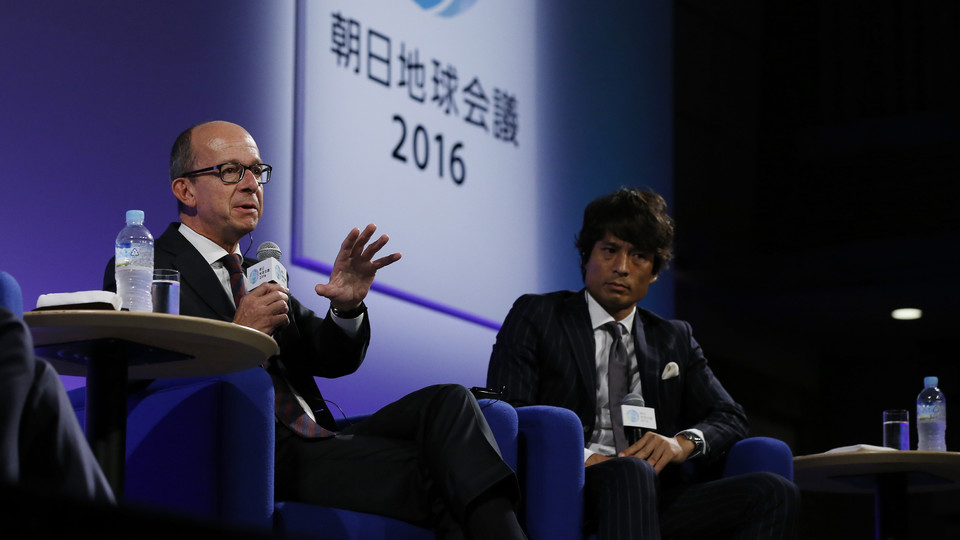 FC Barcelona's first vice-president Jordi Cardoner had a busy agenda on Monday in the Japanese capital of Tokyo, which he is visiting for several reasons associated to the club and its foundation. He appeared at the Asahi World Forum 2016, where he presented the club and its uniqueness in the football world, especially stressing its focus on social and charity issues. And before that, he had visited the headquarters of architectural firm Nikken Sekkei, whose joint bid with the Catalan studio Pascual-Ausió won the tender for the future Camp Nou.
Building a fairer future
At the Asahi World Forum, which is operating under the slogan Beyond the Environment and is being organised by leading Japanese daily The Asahi Shimbun, Cardoner spoke about FC Barcelona and its Foundation's goal of being consolidated as major drivers behind the building of a fairer, more stable and more sustainable world.
Cardoner's speech on Football for a shinier future. FC Barcelona's challenge, began with a video of the Foundation that reflected the club's constant efforts to develop charity projects and exemplified why it is considered 'more than a club'.
He was speaking at the Hotel Imperial, just moments after the US ambassador to Japan, Caroline Bouvier Kennedy, daughter of former president John F. Kennedy, had given a powerful message about achieving a better, fairer and more sustainable world. The Barça' representative touched on similar themes in the form of a discussion about sport and society with former Japanese international Tsuneyasu Miyamoto, who is currently running a soccer school in Bosnia and Herzegovina.
"We aren't better or worse than other clubs, but we are different", insisted Cardoner. "We want to give back to society what society has given to us, and we want to do that on the global stage. Our strategy is simple. We want to use sport to help boys and girls that are sick or at risk of social exclusion."
"Sport recovers what we have destroyed in the past, and this recuperation can be achieved by teaching young people. FC Barcelona believes that the positive values of sport can help make life better for people and that is what out activities focus on."
Charity work
Cardoner went on to say that "apart from stars like Messi, Neymar and Iniesta, Barça also has a heart. Football is no longer just a sport, it has become a vehicle for education and welfare. Barça must transmit such values. We want to be the club for children and to somehow be able to reach all of the children around the world."
Miyamoto backed up such views by saying that "FC Barcelona is an excellent club. The number one club and a way of educating our children. I always try to imitate the FC Barcelona philosophy."
Cardoner also discussed such FCB Foundation projects as Barçakids and FutbolNet and explained that "our collaborations with the Bill & Melinda Gates Foundation, UNICEF and Pope Francis (via the Scholas project) show that with effort and determination we can improve the lives of even the most underprivileged children." As he pointed out, the Foundation is currently helping some 700,000 children in fifty different countries."
Visit to Nikken Sekkei
In the morning, Cardoner paid the first official visit by the club to the headquarters of Nikken Sekkei, part of the winning team in the tender for the future Espai Barça.
He was welcomed by its CEO, Tadao Kamei, and senior executive, Toru Kabori, who were joined by architects Takeyuki Katsuya and Yoshiyuki Uchiyama. The latter will be the head of the office that the company is to set up in Barcelona. Cardoner was accompanied by William Mannarelli, the club's director of patrimony and of the Espai Barça and Xavier Asensi, the director of the FCB office in Hong Kong.
He was shown how the project is progressing and took the chance to reiterate to the Nikken Sekkei staff about the importance of the Camp Nou as a social and historical icon. Mannarelli will be holding a series of further meetings over the next few days to fine-tune certain details.
Something to be proud of
"This is a project to be proud of" commented Cardoner. "And one that will belong to everybody. The architects have put together a project that sends a great club into an excellent future in every sense".
"We know that it will be a comfortable stadium and we want the Barça members to feel that it is their own. We are delighted to come so far away from Barcelona but observe that they have taken all of our needs on board and know what those needs mean to us. Our way of doing things has been detected here in Japan in conjunction with the Pascual Ausió studio in Barcelona".
Tadao Kamei added that "one day we realised that the warmth of Barcelona and of its people, and also the openness of the city, was the key to the project … The concept of the final project is one of a very open, democratic and highly Mediterranean space. It's a good reflection of Barcelonan culture".
These two events brought an end to Cardoner's visit to Tokyo, where among other items on a packed agenda, he attended the annual dinner of the Penya FC Barcelona Japan.