FCB Foundation visits Jordi Cruyff and Maccabi Tel Aviv
Talks continue about ways to honour the memory of Johan Cruyff, which are to be announced on occasion of the first anniversary of his death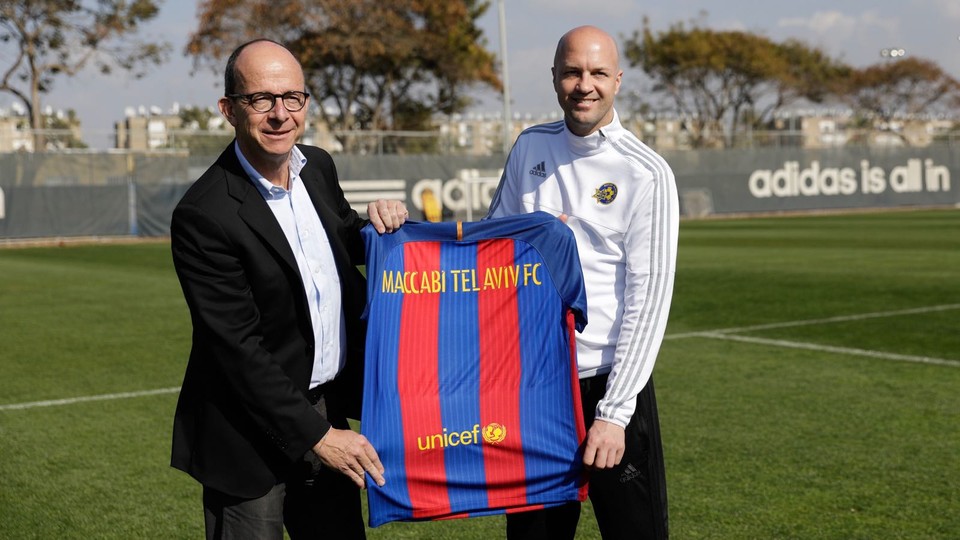 Today was the final day of the FC Barcelona Foundation's visit to Israel, which took them to Maccabi Tel Aviv, where old friend Jordi Cruyff is director of sport and currently serving as caretaker manager.
FC Barcelona first vice-president Jordi Cardoner, FCB Foundation executive director Nacho Mestre, and director general Mària Vallés also met Sharon Tammam, Maccabi's sales manager, and Joshua Halickman, who runs its Foundation. They also got the chance to speak to Albert Capellas, a former youth coach at FC Barcelona who is now assistant manager at the Israeli club.
Recognition for Johan Cruyff
Cruyff and Cardoner used the meeting to continue discussing ways of honouring the memory of the former's late father Johan Cruyff. March 24 will mark the first anniversary of the death of one of the greatest players and managers that the club, and football in general, has ever known.
Jordi also described the work being done in Israel by the Cruyff Foundation, which collaborates with the FCB Foundation in Catalonia through the 'Pati 14' and 'Cruyff Courts' programmes.
Interest in the Foundation's projects
The Maccabi representatives were positive in their remarks about the work being done by the Barça Foundation around the world and expressed interest in developing joint projects in the future. The Israeli club recently set up its own Foundation, which is particularly dedicated to the plight of refugees.
Both clubs agree that football plays an important role by attracting so much attention among children and that clubs should strive to ensure that this means that they gain all the benefits available from practicing this and other sports.
Maccabi Tel Aviv are currently second in the Israeli League behind Hapoel Beer Sheva, and through to the last 16 of the cup, although their Europa League campaign ended in the group stage.
Statement by Jordi Cardoner
"We could not end this trip without greeting Jordi Cruyff, visiting the Maccabi facilities and speaking with its representatives, who have welcomed us as extraordinarily well as everyone else in this country. Those of us who have come to Israel have had a close look at the social sensitivities and problems in the country. We have been able to discuss social aspects and meet important personalities, even the president, who was very interested in getting the chance to participate in one of our projects. We are going away very happy and hope to commence activities very soon in Israel, where Barcelona can do a lot of things".
Statement by Jordi Cruyff
"I come from a family that, as my father's Foundations shows, always thought that children are everything and that it is worth working with them. The Barça Foundation has an enormous reach throughout society and all of its projects show great responsibility to children and people in need. Israel is a country that loves its football. There are lots of Barça fans here. And when the club is seen to be associated with the message portrayed by its Foundation, it shows that sport can unite where politics cannot".