Farewell event at the Auditorium to end historic 'Llotja Infantil' day
The boys and girls were able to put questions to representatives from FC Barcelona and UNICEF at the celebratory event which ended Saturday's activities to make the 10th anniversary of the partnership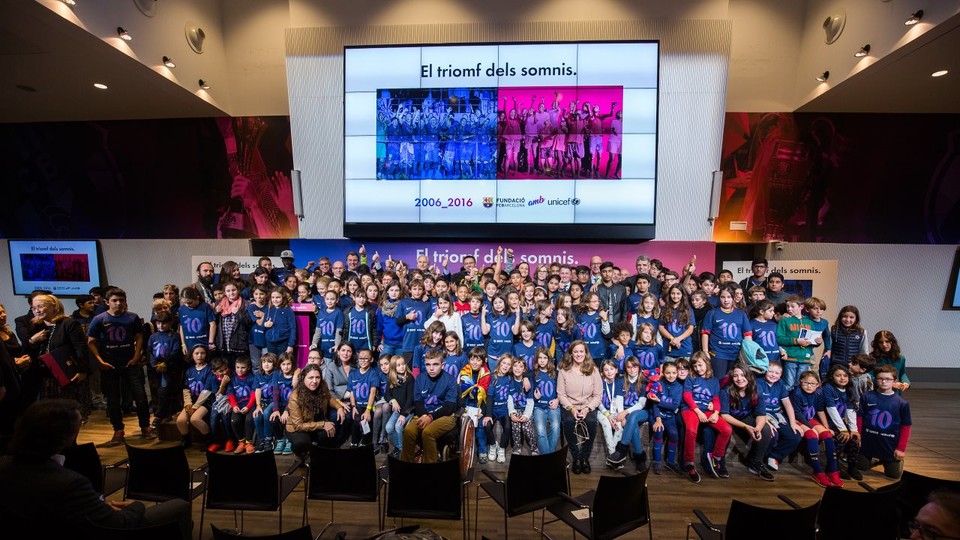 After watching the game from the Directors' Box at Camp Nou and playing their part in a memorable occasion, the 140 children invited to Saturday's game between Barça and Málaga made their way to the 1899 Auditorium where the FC Barcelona Foundation and Unicef had prepared a party to round off the day.
During the event the campaign video 'The triumph of dreams' was shown and the children put questions to representatives from both the Foundation and UNICEF about the work the two organisations carry out around the world in support of children. The children had posed the same questions to their teachers previously and which have helped them understand the potential of sport beyond traditional competition.
At the Auditorium to welcome the children were FC Barcelona president Josep Maria Bartomeu, first vice president Jordi Cardoner, executive director of collaborations with UNICEF, Justin Forsyth and the president of the Spanish Unicef committee, Carmelo Angulo.
The event brought an end to the 'Lotja Infantil', part of the celebrations to mark the 10th anniversary of the signing of the agreement with UNICEF and that comes under the umbrella of the campaign 'The triumph of dreams', presented last Thursday.
The day came on the eve of 20 November, Universal Children's Day, a date that commemorates the approval by the United Nations of the International Treaty that in 1989 established all children's right in the Convention on Children's rights.
Statement from Josep Maria Bartomeu:
"For FC Barcelona and it is a proud moment to celebrate our 10th anniversary with such a special agreement as the one that links us to Unicef. During these years we have been able to improve the lives of millions of children from around the world, something that is a triumph of social commitment from Barça but at the same time is a 'Triumph of Dreams'. Today, with the children in the presidential box, we have been able to see an historic image that will last long in the memory and that motivates us to keep working to help children with the help of Unicef. That is our challenge, that is the round we follow as 'more than a Club.'
Statement from Justin Forsyth:
"Our ground breaking alliance with FC Barcelona has helped transform the lives of a million of children around the world and it has given them the chance to learn to play sport. We are very happy to be working with one of the most successful and well known football clubs in the world in order to change the lives of more children in the next few years, helping them have the chance to develop their potential."