CLUB
'FutbolNet' to work with Miami Dade College in Miami
The FCB Foundation will apply to their methodology to promote values through sport in the different campuses at one of the United States' leading academic institutions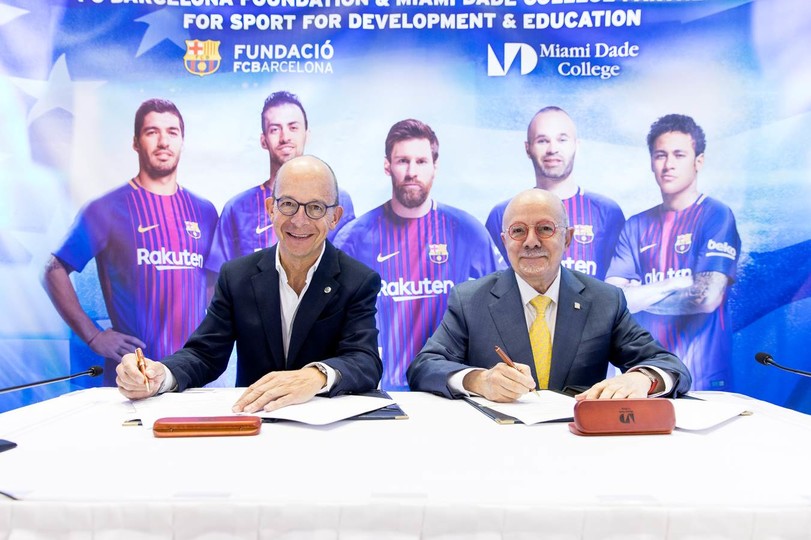 FC Barcelona First Vice President and President of the FCB Foundation, Jordi Cardoner, signed an agreement with the President of Miami Dade College, Eduardo J. Padrón, accompanied by the President of the College's Wofson Campus, Joaquín Martínez, to implement the 'FutbolNet' methodology at this educational centre.
Miami will become the second city in the United States to implement 'FutbolNet', in a six-month programme to be run at the Kendall and North campuses of the Miami Dade College. New York's public schools will start running the programme in autumn and in the summer of 2018 Washington DC will become the third city to put the methodology into use.
The beneficiaries of the project in Miami will be young people between the ages of 14 and 18. They are all going to take part in sessions which will centre o nthe transmission of values like humility, respect and teamwork. These values will be put into practice in line with the educational methodology based on football in which dialogue is the key to work on social cohesion and the peaceful resolution of conflicts.
About Miami Dade College
The Miami Dade College (MDC) is the largest higher education institution in the United States with over 165,000 students. It is also the main provider of Associates in the Sciences of the Arts and Science. Moreover, they take in the highest number of certificates to the minorities tan any other university in the country. The eight university campus offer over 300 different courses including education, public security, management, nursing, cinema, engineering, biological sciences among others. In fact, the academic and vocational programmes offered are nationally recognised as examples of excellence.
Sporting methodology of the FCB Foundation's 'FutbolNet'
The 'FutbolNet' methodology uses sport as a neutral platform to tackle social problems and provide education on values to help children and young people. 'FutbolNet' is a proven programme that has been recognised for its social impact in lots of countries in very different contexts. Currently, there are over 450,000 beneficiaries between the ages of eight and 18 across 54 countries.
Jordi Cardoner's statements:
"Nowadays, when you speak about sport you speak about culture, sport is a vehicle for development, especially among the young. This agreement will allow us to consolidate our presence in the United States. The cities we will work in, New York, Washington DC and Miami are strategic locations for the FCB Foundation."
Eduardo J. Padrón's statements:
"We are an educational organisation with a important and well-known sporting history in the United States. Opportunities change everything and thanks to this project, we will be able to offer the children and young of Miami the opportunity to be recognised and grown with the values that make great citizens."