FOUNDATION
Tostão: FC Barcelona are the most impressive team of the last 20 years
'Tostão' winner of the Vázquez Montalbán International Prize: 'It's an important recognition for the work I've done and I am very pleased with it' 'Right now, Barça represent the style of football Brazil played in the past and which I'd like us to go back to'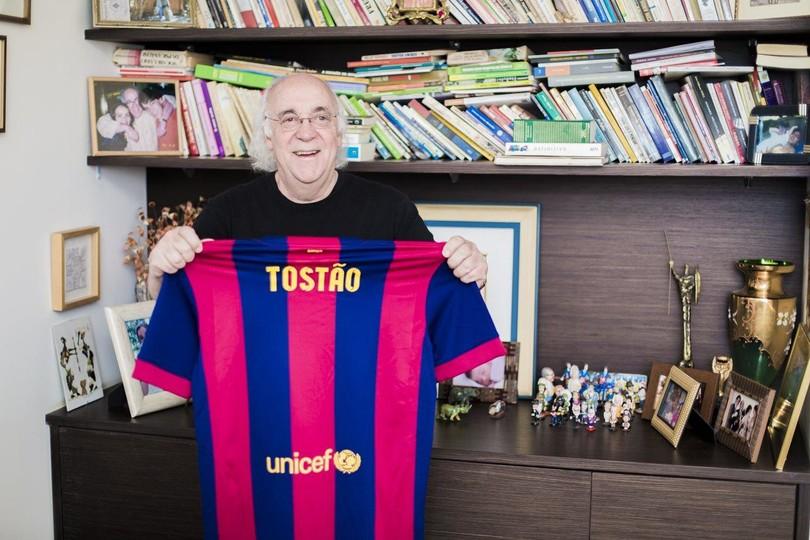 [[DES_1]]Eduardo Gonçalves de Andrade, better known as Tostão - the 1960's and 70s star for the legendary Brazilian team has been awarded the Vázquez Montalbán Prize for International Journalism by the FC Barcelona Foundation and the Catalan Journalists' Association for his writing in various publications.
What does the award mean for you?
It's a great honour. I was very surprised and moved when I found out – I never imagined I would win such an award for what I write, I wasn't aware that my writing was known in Europe. It's an important recognition for the work I've done and I am very pleased with it.

You were always known as a cultured person when you were a player with a strong social conscience.
I always liked to read, but I have never been an intellectual. What struck me most was that players didn't really read much on the whole. I was interested in what was happening around me and tried to rediscover things through books, but really, I was just a normal kid in an environment where most people were just concerned with playing football and buying clothes. There's nothing wrong with that – each of us can do what we like, but I guess people saw me as an intellectual just because I was a bit different.

You played at a time when Brazil was ruled by a military dictatorship. You always expressed your opposition and you claim that the military made political capital out of the Brazilian team's success in 1970. Did they create problems for you?
The 1970 World Cup and that wonderful side were definitely used by the dictatorship to help them cover up the atrocities they were committing. All governments use sporting heroes to strengthen their image. I hated the dictatorship and spoke out many times, but I never suffered any problems – I wasn't an activist though and I never formed part of any organised group in opposition to the regime.
I never imagined I would win such an award for what I write

What is your first memory of FC Barcelona?
Johan Cruyff – I loved the way he played and when Barça signed him in 1973 I started to follow the team. I became a great admirer of the team's style under Cruyff later on when I became a writer and again under Guardiola. Over the last 20 years of my life as a writer, Barça have been the team that most impressed me – I even came over to see a game when Ronaldinho was playing. There is a close relationship between Brazil and Barça – you see lots of kids in Barça shirts and some of the best Brazilian players in history have been at the Camp Nou. In Brazil we say that Barça is the best place for a Brazilian to play because they have a style that allows players to express their skills. Right now, Barça represent the style of football Brazil played in the past and which I'd like us to go back to.
There is a close relationship between Brazil and Barça

Neymar, Messi and Suárez are the best players from their respective countries. Do you think they are the front three who most resemble that Brazil forward line of Pélé, Tostão and Jairzinho?
(laughing) It's hard to imagine - maybe it'd be a draw between us. Jairzinho and I are at Suárez's level, but Messi and Neymar are two phenomenal players. I guess Pélé would push us up to their level - in his time he was the greatest, more than Messi and Cristiano are today. He was the best player I have ever seen, so I guess he'd help us to be on the same level as the Barça three.
Footballer, doctor and columnist
Eduardo Gonçalves d'Andrade was born in Belo Horizonte, Brazil in 1947. He turned professional at the age of 16 with Cruzeiro and just two years later he made his debut with the Brazilian national team and a place at University for the bright teenager was postponed. In 1970 he formed part of the World Cup winning side that is widely considered one of the best team ever to have played the games. He retired from the game in 1973 having scored a club record 249 goals for Cruzeiro. He finally took up a place at University in 1975 to study medicine. Tostão practiced as a doctor for 16 years before dedicating himself to journalism after realising it was impossible to combine the two facets of his career. That decision has led him today to being the recipient of the prestigious Manuel Vázquez Montalbán prize for journalism.