FOUNDATION
Neymar stunned by freestyle magic of John Farnworth
1in11 collaborator John Farnworth visits Camp Nou Experience and impresses Neymar with his amazing ball skills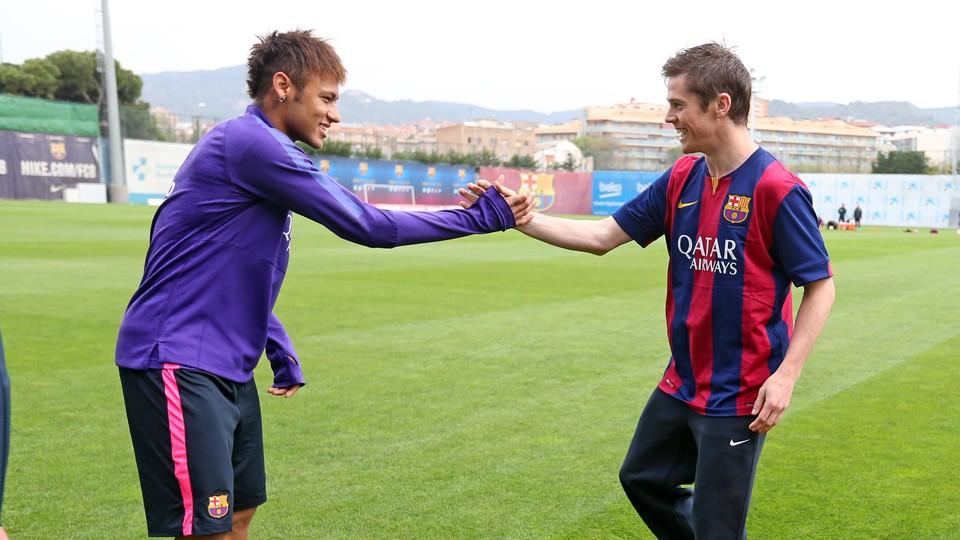 28 year old John Farnworth is the world champion of freestyle, the art of juggling a football with different parts of the body. The young Brit has been working with the FC Barcelona Foundation and its 1in11 campaign, for which he appeared in a promotional video displaying his skills before the works of art that were sold off in a charity auction. In gratitude for helping out with that, John was invited to visit the club and meet his hero, Neymar.
Exhibition at the Camp Nou and Ciutat Esportiva
His first stop was the Camp Nou Experience, where he showed off his skills before the Champions League trophy, in the Messi Space and in the stadium terraces, watched all the time by open-mouthed tourists. Farnworth also got the chance to attend a first team training session, where he was able to Neymar in person and show the Brazilian some of the magic. The FCB player was gobsmacked by what he saw, especially when Farnworth whipped off his jacket to reveal one with Neymar's name on the back.
Magic and brilliance
Farnworth is football crazy and says he has followed Barça since he was a kid. "My father brought me to the Camp Nou once", he remembers. "Barça is one of the biggest clubs in the world … Neymar is my favourite player in the current squad because he's very magical and brings skill to the game, and he's also very good at freestyle".
While he was in Barcelona, Farnworth also spoke about his role in the 1in11 project and his starring role in the Sotheby's video. "It was very special for me to be involved in 1in11" he explains. "It was fantastic to be able to offer my skills to such a global initiative and for such a good cause as raising money for charity."
The Freestyle world champion John Farnworth...
por fcbarcelona
Record breaker
John has won a wealth of different European and world freestyle football, titles, and also holds five Guinness records, including juggling the ball 133 times with his heel in one minute. He has taken his show to over 30 countries, has performed in World Cup and Champions League finals and has appeared on stage in London's West End and Broadway in New York. In 2011 he juggled the ball the entire length of the London Marathon.