FOOTBALL
The FC Barcelona Foundation unveils 'Barçakids'
The Foundation presented Barçakids this Wednesday, an educational project which looks to promote the Club's values in schools Rosell said that the project "is the most ambitious educational project ever taken on by the FC Barcelona Foundation"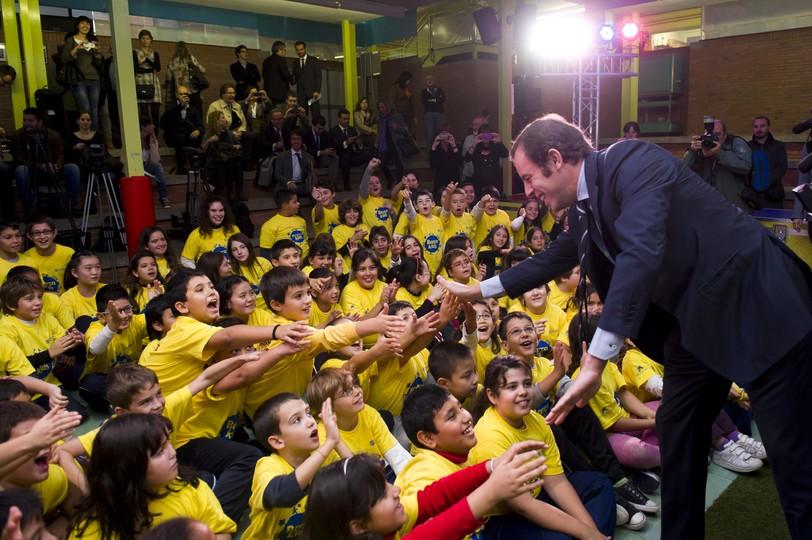 This Wednesday President Sandro Rosell unveiled Barçakids, FC Barcelona Foundation's new project. The opening ceremony was held in CEIP Brazil in Barcelona and was attended by the FC Barcelona director Ramon Pont and various representatives of the Foundation.

Representatives from other organisations that collaborated on the project were also present: director chief of the Obra Social 'la Caixa,' Elisa Durán, district councilor of Sant Martí, Eduard Freixedes, and the secretary general of sports of the Generalitat de Catalonia, Ivan Tibau.

Rosell declared that the initiative is "the most ambitious educational project ever taken on by the FC Barcelona Foundation" and he went on to tell the children what values the project aims to foster. The secretary general of sports, Ivan Tibau, said that "I tip by hat to Barçakids, it's a project that demonstrates the Club's commitment to the country."


What is Barçakids?

Barçakids is a programme developed by the FC Barcelona Foundation for children between the ages of 6 and 12 years old, which aims to promote and encourage values through the principles of sports, play and inclusive and active participation.

The objective is to promote critical thinking and the knowledge to seek out habits and attitudes that help personal and collective growth through educational rigor and dynamic and innovative processes.

Schools and online

The Barçakids project will have two points of contact: the classroom and the internet. The classroom portion of the project will last three days. Children will divide up into groups and each group will devote a full day to the project's curriculum. The project is designed for groups of 50 children a day, meaning that each school where Barçakids will operate will have 150 beneficiaries.

Each participant school will be given an 'Edukit,' a portable resource packet designed to look like a mini-football field. This resource packet contains athletic gear, screens, portable tables and school material.

These tools will help the schools teach the five basic values that Barçakids seeks to share with the children: respect, effort, ambition, team work and humility. These values make up the foundation of FC Barcelona, and the values are shared by Barça partner institutions like UNICEF and the educational curriculum of the Department of Education of the Generalitat of Catalonia.

Barçakids' online resource (www.fcbkids.cat) is designed to give the project continuity. The online resource provides recreational and educational materials for the teaching community (teachers, educators, families and children) outside the classroom.

15,000 participant children in the 2012/13 scholastic year

15,000 kids from Catalonia (including the Poniente region and Catalunya Norte), Valencia, the Balearic Islands, Andorra and Alguer (Italy) will participate in the Barçakids project this year.