FOUNDATION
A historic trip
On Thursday, Sandro Rosell ended a busy day with an appearance at a United Nations session on polio, part of a historic institutional visit to New York by FC Barcelona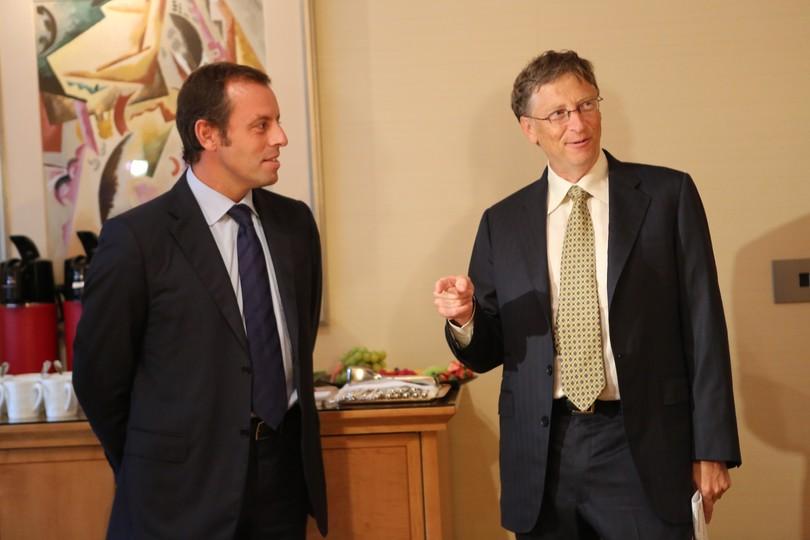 President Sandro Rosell's visit to New York, where he met different organisations that collaborate with the FC Barcelona Foundation, has been extremely positive. Rosell spent the last three days of his agenda examining the intense social projects being undertaken by the Foundation around the world. He evaluated the work being done in Brazil with the 'FutbolNet' project; he studied what is being done for schools in Nigeria and China in conjunction with UNICEF, and he has made further advances in what Barça and its players are doing to help eradicate poliomyelitis.
The series of meetings is one of the Club's finest ever achievements on an institutional level, for in just three days Rosell met with important figures like the philanthropist Bill Gates and the executive director of UNICEF, Anthony Lake.
Quoted on Bill Gates' personal blog
The trip ended on Thursday with yet another high ranking meeting. Rosell was the sole representative of a sports club that participated in a session on poliomyelitis at the United Nations General Assembly. The meeting involved dignitaries from all walks of public and private life that are taking part in the mission to eliminate this disease, which is still endemic in Afghanistan, Nigeria and Pakistan. As a result of this commitment and a private meeting with Microsoft founder Bill Gates, Sandro Rosell and FC Barcelona were even mentioned in his personal blog 'The Gates Notes'. In his post Gates qualified Barça as a 'sensational partner' in the fight against polio.
In the US media
Rosell has also spent some of his time on more informal activities, such as a visit to the Penya Blaugrana de Nova York and a series of interviews with American media outlets. As a result, Barça have featured on some of the most wide-reaching media outlets in the country, including sports channel ESPN, where Rosell was interviewed by ESPN Deportes and ESPN (the outlet's Spanish and English versions)
More meetings in Los Angeles and Portland
After a busy few days for Sandro Rosell in New York, the president of FC Barcelona has flown of Los Angeles. In California, his plans include a visit to the Staples Centre, home of the LA Lakers, for an interview with the managers of the facility, from whom he hopes to get some ideas for the new Palau Blaugrana. He will then be travelling to Nike headquarters in Portland, Oregon, to speak with the directors of the multinational sportswear company.