CLUB
Thursday, presentation of the first team's futsal match for TV3 and Catalunya Radio's Marathon against Poverty
Thursday, at 13.30, details on FC Barcelona's first team's futsal match for the Marathon against Poverty, which will be played on May 27 at the Palau Sant Jordi, will be presented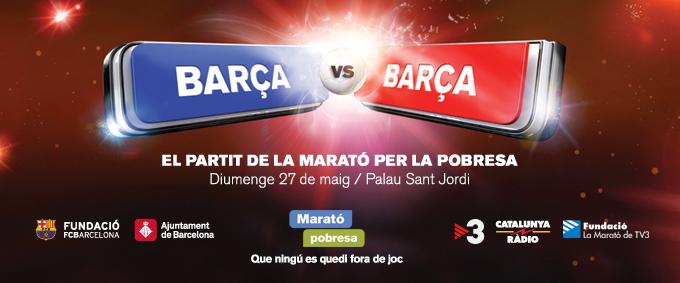 On May 3rd at 13:30 in the Ricard Maxenchs press room, details of the futsal match at the Palau Sant Jordi between FC Barcelona's first team, managed by Josep Guardiola and Tito Vilanova, will be unveiled. The match will be played on May 27th in honour of TV3 and Catalonia Radio's Marathon against Poverty.

FC Barcelona President Sandro Rosell; Brauli Duart, President of CCMA; Eugeni Sallent, director of TV3 and Barcelona Mayor Xavier Trias will attend the event.

"No one should be left offside"

The Marathon against Poverty will start on Sunday May 27. The initiative's objective is to mobilize the populace and support anti-poverty organizations. "No one should be left offside," is the slogan of the initiative which seeks to fight against social exclusion, raise awareness and mobilize citizens. All proceeds will be given to "help those that help." Specifically, the funds will be allocated to third-sector social projects that aid in assistance, housing and work in the intersection of social labour and child care.
Guardiola and Vilanova record a TV spot
This afternoon, after the first team's training session, Pep Guardiola and Tito Vilanova recorded a spot at the Ciutat Esportiva for the Marathon against Poverty. This advertisement will debut on Thursday during the presentation of the futsal match.