FCB Foundation Forum
The FCB Foundation Forum's objective is to promote broad debates on sporting and cultural issues that have a direct or indirect bearing on the Club's activities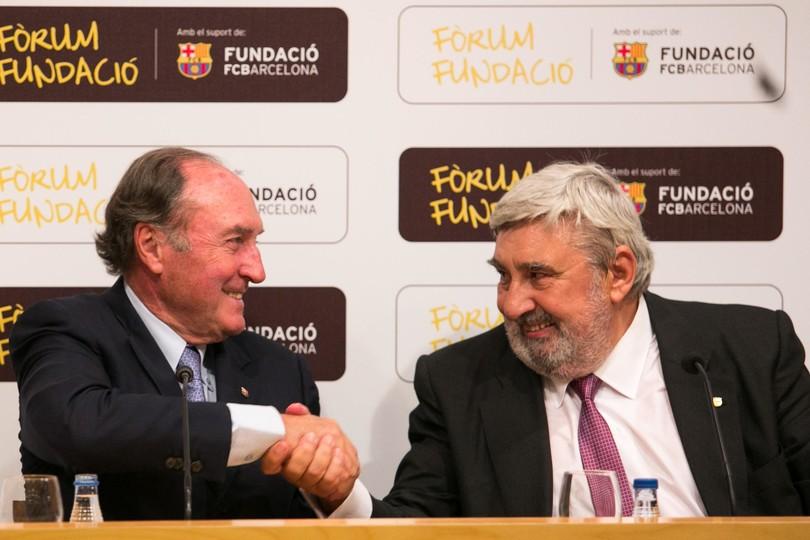 What is the FCB Foundation Forum?
This is a Forum run by the FC Barcelona Foundation whose objective is to promote broad debates on sporting and cultural issues that have a direct or indirect bearing on the Club's activities. The Forum seeks to stimulate support and following for FC Barcelona and to do so, encourages dialogue focused on advancing Barça and sporting and ideological discussion.
How is it structured?
The Forum is a dependency of the FC Barcelona Foundation in all of its areas, but has its own governing body and advisory council formed by personages of prestigious renown from the worlds of culture and sport, as well as representatives of the Club or public life in Catalonia. Its advisory council is presided by Jaume Llauradó, who has accumulated considerable experience as a sports director. He was vice president of FC Barcelona, a member of the Barça Veterans Foundation, patron of the FC Barcelona Foundation, president of CD Hispano-Francès, a member of the Board of Directors and Treasurer of the Barça Veterans Foundation and a promoter of Planet Futbol and the Fòrum Samitier, which organised debates and dinners from 1990 to 2009.
The Forum's advisory council is made up of:
Ramon ALFONSEDA - President of Barça Players Group
Assylbek KARIBAYEV - President of Petrokazakhstan Oil Products
Isabel BOSCH - Journalist
Màrius CAROL - Director of Communication for Godó Group
Josep M. CORONAS - State Lawyer
Ramon CUGAT - Hospital Quirón BCN – García Cugat Foundation
Helena GARCIA MELERO - Journalist
Juan Carlos GARCIA VALDECASAS – Surgery Professor
Agustín GRAS - President of Natural Electric
Josep NIUBÓ - Magistrate in Provincial Courts
Vicenç VILLATORO - Writer
Jordi LLAURADÓ - Entrepreneur / Secretary of Fòrum Advisory Council
President of Advisory Council: Jaume LLAURADÓ i GRÀCIA
Conference delegates and subjects of debate
The team of conference delegates will be pluralist, including national and international personages from the world of sport. The subjects for debate will include those based on the Barça movement and its values, which can be of a sporting, televisual, social or statutory nature. Activities will be organised in parallel to the debates, such as conferences, expositions and publications.
Location and Calendar

The periodic activities shall, as a priority, be held on the FC Barcelona premises although the Forum is open to the hosting of itinerant events.
Who can participate in the Forum?
The desire is for the Forum to be open in the future to all Barça supporters wishing to attend, but due to the size limitations of the present Sala Paris, club members shall receive priority attention. When the new Sala Paris, with the capacity for 600 people, is opened, then the criteria for attendance can be expanded.