A decade of working together for at-risk children
In 2006, the FC Barcelona Foundation and UNICEF signed a pioneering agreement that revolutionised the sponsorship world.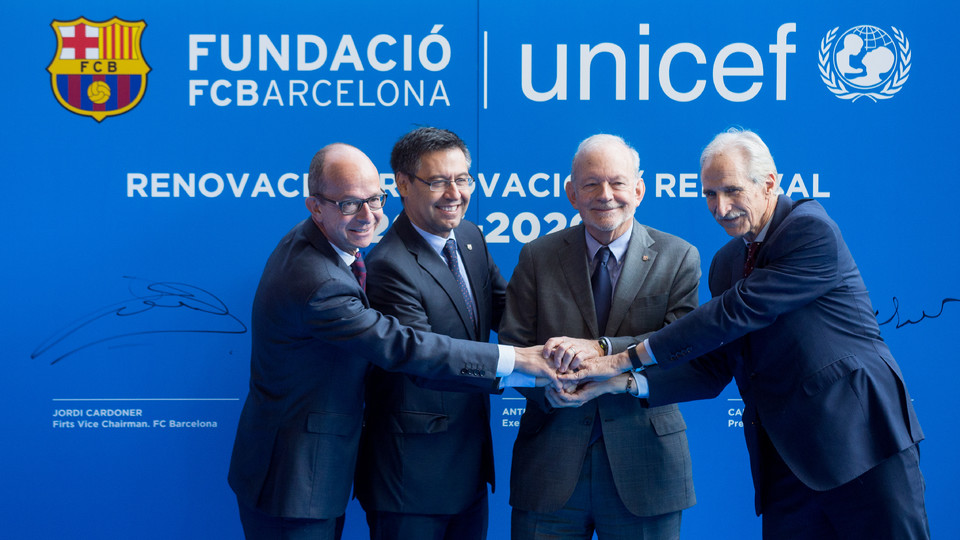 The FC Barcelona Foundation and UNICEF shook hands for the very first time on 7 September 2006 as they agreed to work together for the rights of boys and girls around the world and assure them a quality education.
The deal set new standards for charity partnerships, and was admired around the world as it internationally promoted the notion of being 'More than a Club', thus reflecting the commitment to society that has always been such an important part of FC Barcelona.
More than a million beneficiaries in ten years
Last September marked the tenth anniversary of the agreement at the United Nations headquarters in New York. Since the deal was signed, the two organisations have joined forces to aid more than a million boys and girls through joint ventures in seven countries, leaving an unforgettable memory wherever they have centred their efforts.
From 2006 to 2010 work was done in Swaziland, Malawi and Angola on awareness raising, prevention and detection of HIV/AIDS. From 2011 to the present, the work has focused on South Africa, Ghana, Brazil and China, using sport as a tool for education and development.
Barça increases annual donation to two million euros a year
After ten years of intense work in the field, promoting charity projects around the world to help at-risk children, the two organisations took things a step further last February by extending their partnership.
Thanks to this new agreement, the FC Barcelona Foundation provides two million euros a year as a contribution to the implementation of projects to foster education for children through sport in some of the neediest places on the planet.
Until then, the FC Barcelona Foundation had been donating 1.5 million euros a year to its collaboration with UNICEF. This half-million increase will be used to support UNICEF with emergency relief and reinforces Barça's commitment to children, while opening a new chapter of the partnership that will be able to reach even more people than ever in all corners of the globe.
The agreement will run until 2020, meaning that the UNICEF logo will remain on the first team shirt in order to raise awareness of children's rights.
Best possible partner in support of children
UNICEF is the United Nations agency for children, and is the world's most prestigious and emblematic organisation in the field. FC Barcelona wishes to express its utmost respect and gratitude to it for this new agreement.
Play is a recognised right of all children and sporting activities are a powerful resource for improving their quality of living. Over the last decade, the challenge has been to combine those two elements, sport and play, and make them a gateway towards education in order for boys and girls to be able to live up their full potential.
These are some of the social achievements in the four countries where the partnership is working right now:
In Ghana, 263,000 children have been helped at more than 1,350 schools, receiving sports kits and educational sessions on leadership and values.
In China, the FCB Foundation and UNICEF have reached more than 230,000 children in 392 rural schools. Also, 21 Friends of Children Spaces have been created that provide support to 14,600 children and 6,450 parents and guardians.
In South Africa, the two entities are working to guarantee opportunities to children. 2,715 young people have attended workshops promoted by the 'Girls and Boys Education Movement'.
In Brazil, Barça has supported UNICEF programmes that have reached 57,000 boys and girls. More than 37,000 children, 4,000 of whom are disabled, are direct beneficiaries of the Open Doors to Inclusion course.