Neymar's boot for Leanna
The Foundation has given one of Neymar's boots to a young Phillipino girl called Leanna, who won a competition for writing about her dream
It all started with the Sant Jordi 2015 literature competition, when the social and education organisation Terral asked its pupils to write an essay. The topic this year was simple yet complex: 'A Dream'. Leanna, an 11 year old Philippine girl at this centre in the Barcelona district of Raval, didn't think twice about writing about Neymar, the hero that features in so many of her dreams.
In her text, Leanna dreamt that she found the Brazilian's boots at the football pitch in her hometown. She puts them on, goes onto the field, and there is Neymar, ready to play a long game of football. The jury, led by authors Eduardo Mendoza and Patrícia Gabancho were entranced by this essay written using the pseudonym 'Neymar' and decided to make it the winner in that category.
But that's not the end of the story. The next day, the director of the centre, Victòria Guindulain, was surprised by the interest generated by Leanna's story, and decided to start working to make that dream come true. She felt that she had nothing to lose, and wrote to the FC Barcelona Foundation, who in turn told Neymar himself about the story. The striker didn't think twice, and decided to give Leanna one of his signed boots. On Monday a delegation from the Foundation led by its patron Antoni Tombas presented the young girl with the real prize for her lovely entry. The Terral was packed for the occasion and the atmosphere had nothing to envy of the most passionate evenings at the Camp Nou.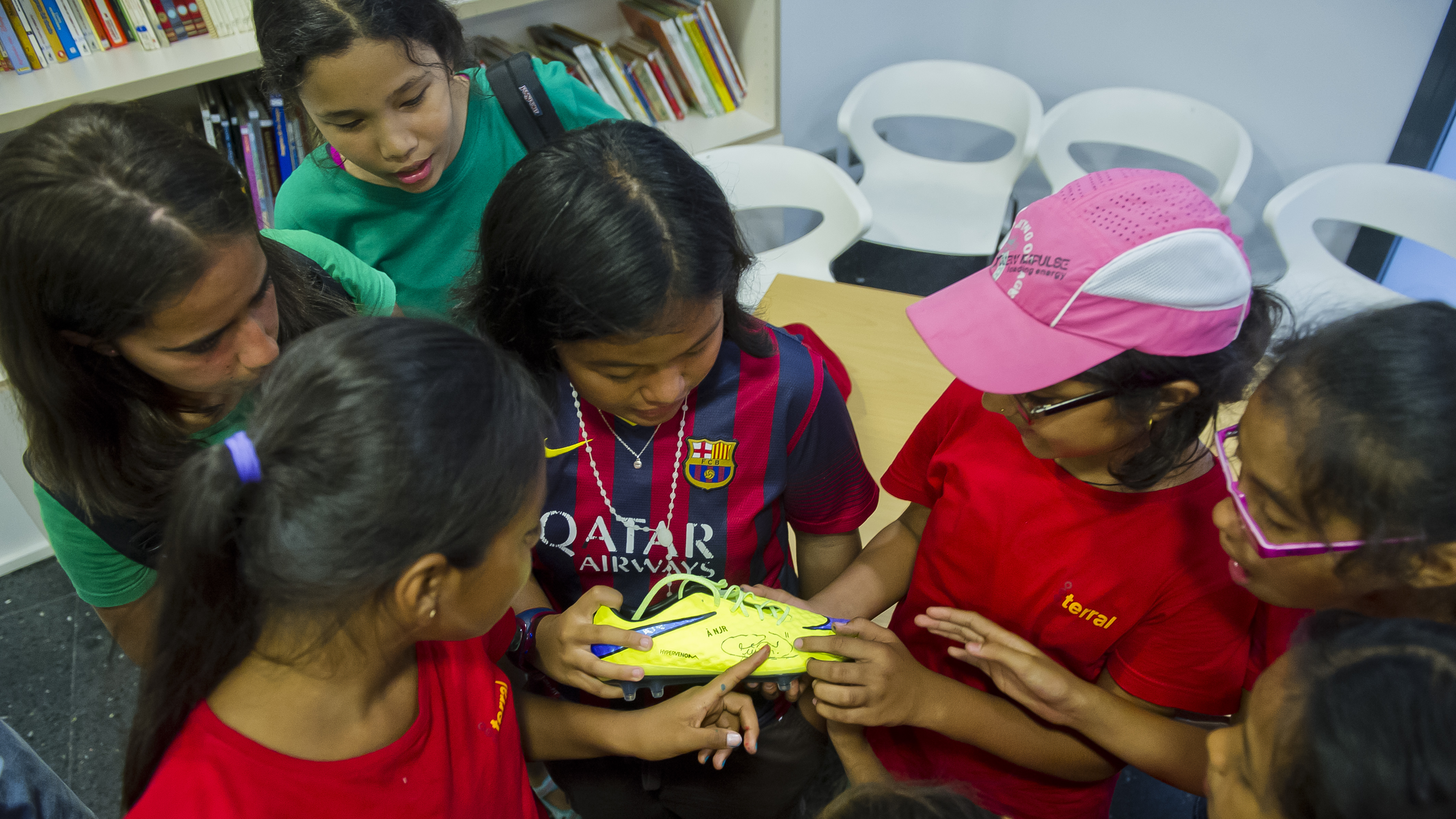 "Thank you, Neymar, for giving me this gift" said the young Barça fanatic, while nervously clutching the fabled boots. "I want to take them to the Philippines this summer, to my family's home" she said. Her parents and younger sister were also present as she continued to describe how happy she was in her limited Spanish, and her mother Margaret, who moved to Barcelona six years ago, could not hold back the tears.
This dream has certainly come true, but the anecdote is just one reflection of the work being done at Terral, which like so many other centres in the district works hard to integrate new arrivals from other countries and to provide for their educational needs. As Victòria puts "this story helps the children to realise that they can do worthwhile things to change their lives and that this helps to generate self-esteem." "The Foundation wants to be in touch with the people to show that the Barça of their dreams is something tangible that they are in touch with" adds patron Antoni Tombas. Leanna has already said that she won't be losing sight of her trophy for a whole season.
Leanna's essay:
'Football'
Once I had a dream where I was in my home country, the Philippines. I was in my town, a smaller place than Barcelona and I was walking to the local football pitch. I went straight into the dressing room where I supposed that my team-mates would be waiting. But all I found was a shoe box. I was surprised and decided to open it, and I was even more surprised when I saw that they were Neymar's boots. I put them on and went out onto the field to play. When I got there, Neymar was waiting for me to play some football. We played until night-time, when Neymar said he had to go and that it had all been a dream. When I woke up, I could still feel the studs of the boots and my legs ached from so much running.
Pseudonym: Neymar
Category: Junior