Excellent response to 'We eat healthy, we buy in a market'
More than 3,500 children have participated in this educational activity that spreads the word about healthy eating and doing sport
The educational programme "Mengem sa, mengem de mercat" (We eat healthy, we buy in a market) runs in association between Barcelona's markets and the FC Barcelona Foundation, has worked this year with 68 schools and 3,532 pupils on a project designed to teach primary and secondary children about buying local, quality and healthy food products, as well as the essential role that sport plays in maintaining a healthy lifeatyle.
More than 60 schools
The collaboration agreement between the Institut Municipal de Mercats de Barcelona (IMMB) and the FC Barcelona Foundation was set up early last summer. The involvement of the football club has helped raise awareness among schools and pupils. 62 of the participant schools are in Barcelona and the other 6 are in other municipalities.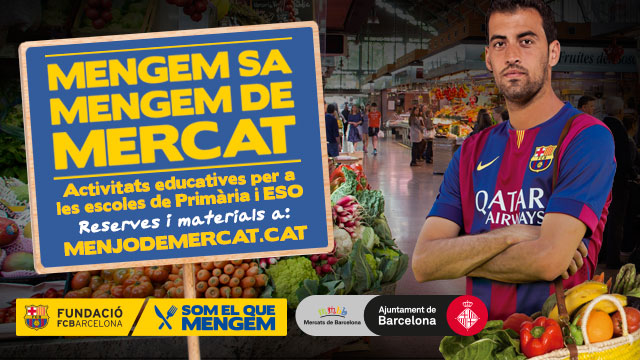 Considering that there are 422 schools in Barcelona, that's an impressive take-up rate of 16% of all schools. A total of 29 markets have been visited by 160 groups of pupils from different centres, the most commonly visited ones being Concepció, Guineueta, Llibertat, Abaceria, Sant Antoni and Santa Caterina