FC Barcelona and Scholas plant an olive tree for peace
The president Josep Maria Bartomeu and the global director of the educational network José María Corral lead a simple and symbolic act at Camp Nou's La Masia
On Wednesday afternoon a simple and symbolic act took play at Camp Nou's La Masia, the planting of an olive tree for peace blessed by Pope Francis. The event comes in the light of the recent agreement between the FC Barcelona Foundation and the Scholas, a network of interreligious schools set up by the current Pontiff. The Barça president and president of the Foundation Josep Maria Bartomeu was present as were vice presidents of the Foundation, Ramon Pont and Ramon Cierco and the world director of Scholas, José María del Corral. The planting of an olive tree for peace is part of a tradition involving Scholas and artistic and sporting events with the aim of promoting values and spreading world peace.
The first olive tree blessed by Pope Francis was planted at a friendly game between Argentina and Italy in August of 2013 in the Olympic Stadium in Rome. The day before the game the pontiff had an audience with the two teams and the respective captains, Leo Messi and Gianluigi Buffon were presented with the tree by the Pope. Subsequently, olive trees for peace have been planted at qualifying matches for the 2014 World Cup in Brazil; first division games in Argentina such as the famous Boca-River derby; in Paraguay, in Chile; in the final of the Palermo Polo Open, the final of the hockey Champion Trophy and in various rugby and tennis matches.
A partnership to promote education
The president of FC Barcelona, Josep Maria Bartomeu, signed a collaborative agreement on 5 February between the Foundation and Scholas, the world network of educational centres set up by Pope Francis that has as its objective the integration of educational communities around the world with special consideration for the less fortunate. The collaborative agreement has been widened with the basketball team set to wear the logo of Scholas on their shirts during the upcoming Copa del Rey in the Canary Islands, a decision that was taken on Monday in a FC Barcelona Board meeting.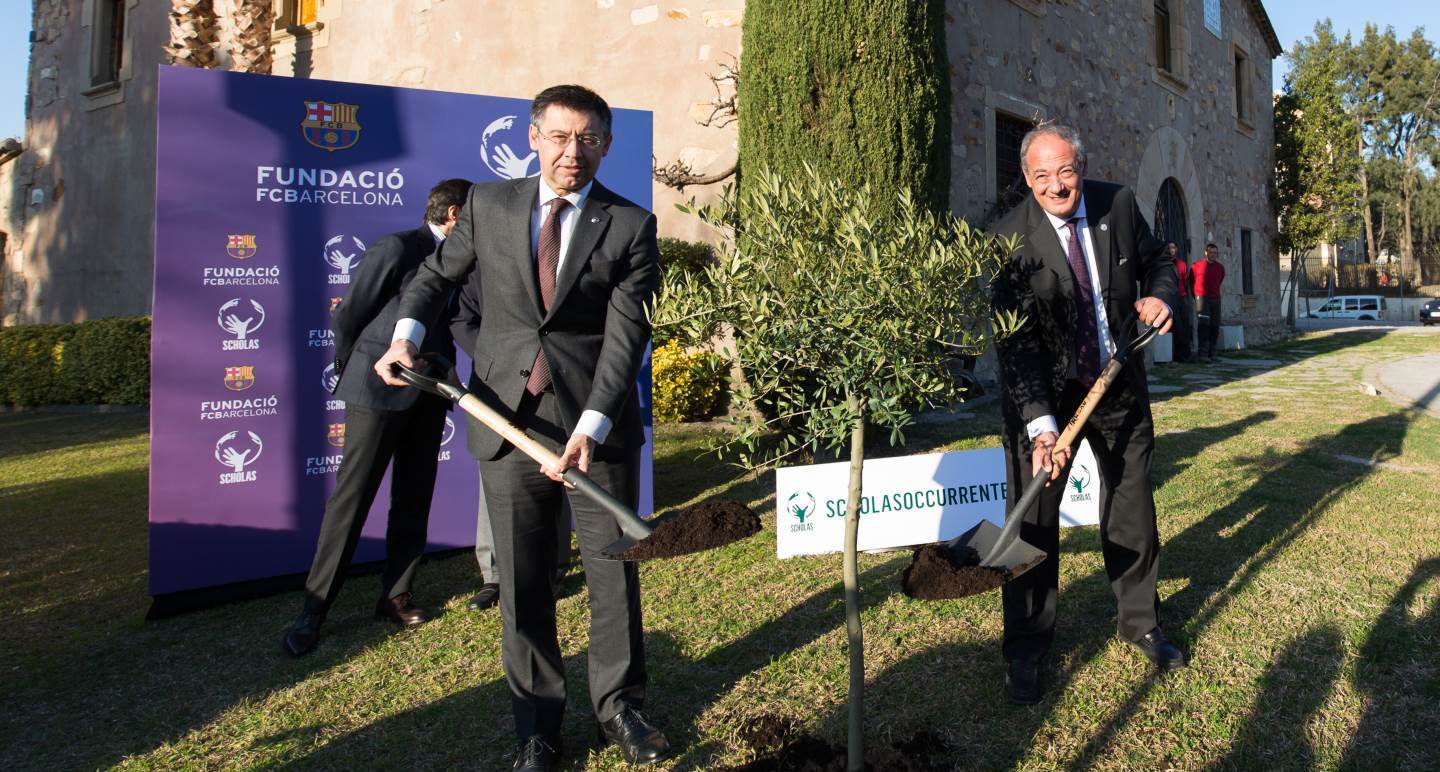 FC Barcelona and Foundation president Josep Maria Bartomeu:
"Education, like sport, is a valuable tool for transmitting values and principles amongst children and young people and so it is for that reason that we value the work that Scholas does and why we want to form part of this project. Thanks to education we contribute to improving respect and tolerance and supporting peace, and whatever Barça can contribute will be little. We want to promote the Scholas project, we want it to be know and that is why we have decided to put their name on our basketball during an attractive competition like the Copa del Rey."
Global director of Scholas José María del Corral:
"Scholas work towards integrating children and young people through the world of sport, art and technology. For that reason, collaborating with Barça is fundamental for Scholas' mission and it invites other clubs to add their names to the calling of the Pope."