Children feature in campaign to support refugees
Great response to the initiative from the supporters in the build-up to today's game at the Camp Nou with Las Palmas
The Tant se val d'on venim campaign in support of the refugees that have arrived in Europe played a central role in the build-up to today's game at the Camp Nou against Las Palmas. With 3,000 tickets reserved for children through the Children at the Camp Nou and Child's Passport schemes, and an early kick-off time, there was an especially young crowd in the ground.
The activities organised by the Foundation today included children's matches on a mini-pitch set up on the forecourt outside the stadium. All that was required to play was a donation to the 'Tant se val d'on venim' project. The proceeds from this campaign will go to the Red Cross to support the refugees escaping from conflicts in their countries, many of whom will be arriving in Catalonia soon. The project is also about raising awareness of their plight and helping new arrivals to integrate in society.
Called 'If we all play, we all win', the activity ran from 10.00am to 4.00pm, with more than thirty five-minute four-a-side games being played. Volunteers also distributed leaflets to the people arriving at the stadium and collection boxes were set up all around the ground.
As seen on TV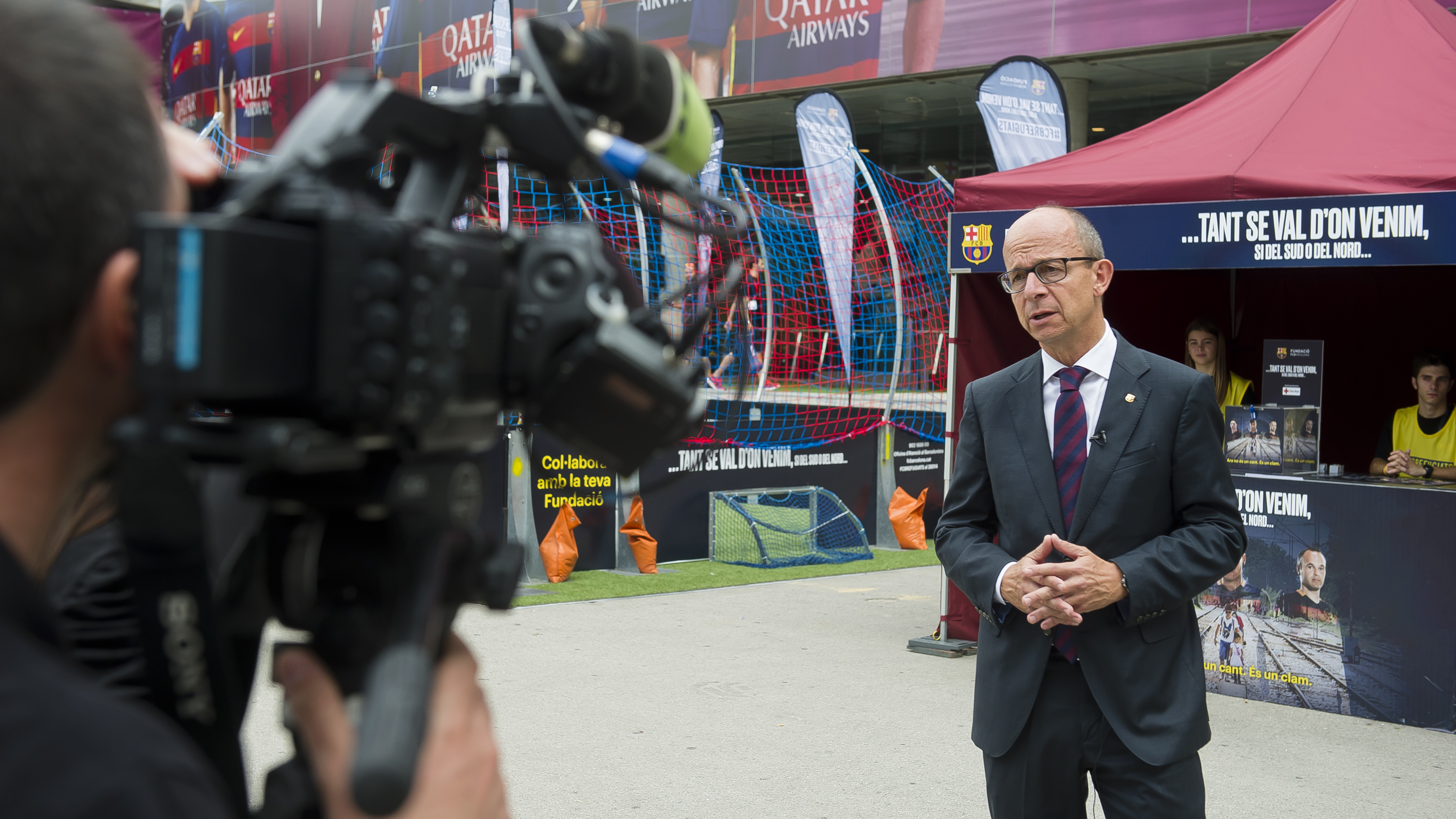 International TV channels have also picked up on 'Tant se val d'on venim', with plenty of reporters coming to learn more about a campaign that was launched on September 20. Jordi Cardoner, the club's first vice-president was there to tell them all about the initiative.
Cardoner spoke to Russia Today, a channel seen in 100 countries and that is currently covering the different initiatives around Spain in support of the refugees. Barça is the only sports club that appears in the report, while BeiN USA, which holds the rights to La Liga in the States, also reported on the project in the build-up to today's match. Cardoner was keen to describe how it reflects the club's history of involvement in charity matters and how this is not a one-off action but one that will be carried on for as long as necessary.
ESPN Brazil also broadcast a report recently about what sports clubs are doing to help with the crisis, in which Barça appeared as one of the clubs that has led the way in the design of such initiatives.